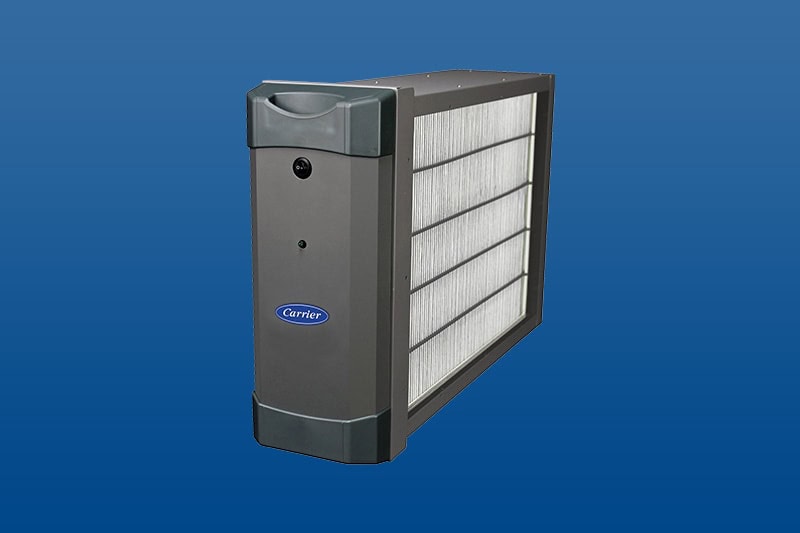 The pandemic continues to dominate news stories. We hear of other people getting sick with the flu. Medical professionals continue to work hard to help provide comfort and care to those that are ill. It is an incredibly vulnerable time for many.
You are inside more during the winter months and that means you'll be breathing recirculated air. Your health – and your family's health – are your top priority. So, what steps can you take to ensure that you are breathing clean air and reducing your exposure to harmful bacteria or viruses?
The Infinity Air Purifier from Carrier is one great option.
This outstanding purification system has even been proven to capture and inactivate over 99% of bacteria and viruses, including the coronavirus in the filter. (1)
Here's how it works:
The Infinity air purifier takes in air from your heating system. It then creates a cloud of ions that are charged with electricity. They attach themselves to dust, pollen, viruses, and other harmful germs or airborne pathogens. Then, they are pulled toward an oppositely charged MERV 15-rated filter and inactivates them in a powerful electrical field.
These systems work alongside your existing heating system and require little maintenance. They are so quiet that you don't even know that they are running. Simply take a breath and trust that the air you breathe is cleaner than it was before.
Our team at Hybrid Heating and Air Conditioning sells and installs this revolutionary air purifier. During the winter when viruses and bacteria are rampant, it's the perfect time to invest in a system like this. Contact us today to learn more about the Infinity Air Purifier and to schedule your appointment.
The Infinity® air purifier has demonstrated effectiveness against the murine coronavirus, based on third-party testing (2020) showing a >99% inactivation, which is a virus similar to the human novel coronavirus (SARS-CoV-2) that causes COVID-19. Therefore, the Infinity air purifier can be expected to be effective against SARS-CoV-2 when used in accordance with its directions for use. Third-party testing (2012, 2007) also shows ≥99% inactivation for the type of virus that causes common colds, Streptococcus pyogenes, and human influenza. Airborne particles must flow through your HVAC system and be trapped by the Infinity filter to be inactivated at 99%.
Source: Carrier at Home https://www.shareddocs.com/hvac/docs/1010/Public/02/01-IAQ-077-01_A.pdf
---
by Brooke Strickland