Indoor Air Quality Products are perfect for preventing itches, sneezes, wheezes and mold – things all homeowners want to avoid. Why should you wallow with the dust bunnies? Our warranty-backed products balance humidity, promote ventilation and eliminate harmful mold and pollutants for a cleaner, healthier atmosphere throughout your entire home. Protect your health, protect your home. Contact Hybrid Heating and Air Conditioning and breathe easier today.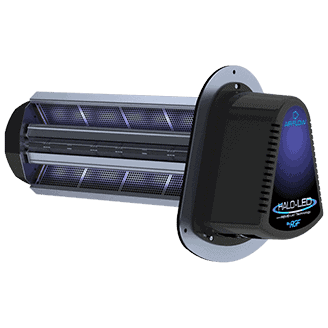 HALO-LED™ Whole Home In-Duct Air Purifier
The HALO-LED™ is the industry's first LED in-duct, whole home and building air purification system that is both mercury free and zero ozone compliant. The HALO-LED™ proactively treats every cubic inch of air conditioned space, reducing airborne and surface contaminants and pollutants through bi-polar ionization and revolutionary, patent pending, REME-LED™ technology.
Features & Benefits

Long-life replaceable LED cell module with 2.5x longer life than current mercury vapor UV lamp technologies
Industry's first washable catalyst for high load environments (ie. cigar bars, smoking rooms)
Reduces airborne and surface microbials, bacteria, viruses, and mold
Reduction of smoke, odors, VOCs, allergens, dust, and particulate
Mercury and ozone free
Seven-year limited warranty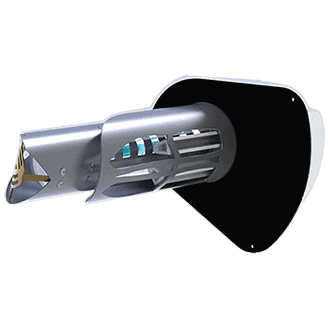 REME HALO®
The award-winning REME HALO® whole home in-duct air purifier is the next generation of indoor air quality (IAQ) technology and capable of purifying every cubic inch of air that your central air conditioning system reaches.
Designed to eliminate sick building syndrome risks by reducing odors and air pollutants, the REME HALO® whole home in-duct air purifier is the best solution for whole house and building air purification.
Invented to recreate nature's process of purifying the air, it's like bringing fresh outdoor air inside without ever having to open your windows. And it's effective against all three categories of indoor air pollutants: Particulates, Microbial, and Gases.
You can now reduce common allergy triggers from particulates such as pollen, mold spores, dander, and dust. Thoroughly tested on airborne and surface bacteria, viruses, such as MRSA, e-coli, and Norwalk, to name a few. Say goodbye to odors from cooking, pets, dirty socks, diaper pails, and musty rooms.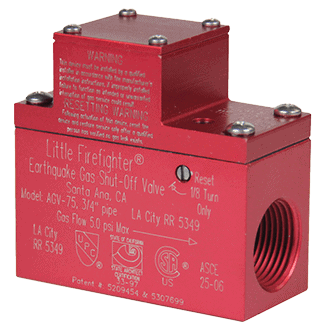 Little Firefighter Earthquake Gas Shut-Off Valve
Valves Automatically Shut Off Gas When Triggered by a 5.4 Magnitude Seismic Event and are equipped with Manual Reset on Both Sides. In addition to the different sizes, the valves come standard in 4 different orientations to meet your specific requirements!
Horizontal and Vertical variations are offered for all sizes (except Industrial)
90 Degree variations are offered for 3/4″, 1″ and 1-1/4″
Industrial *Flanged* variations are available in 3″, 4″ and 6″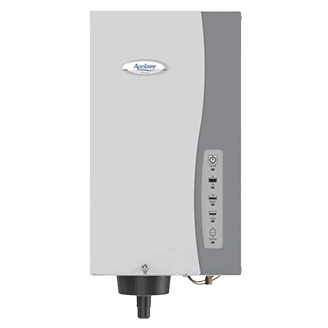 AprilAire 800 Whole House Steam Humidifier
AprilAire Model 800 steam humidifiers use electrode technology and are simple to install, operate, and maintain. With electrode technology, electrical current flows between submerged electrodes, the resistance of the water to the electric current heats the water. The submerged electrodes are found in a replaceable canister. At the end of a humidifier season, the canister – including the electrodes, is replaced. No cleaning, no scrubbing, simply replace the canister and you're ready for the next humidifier season. Electrode technology requires impurities in the water to promote the transfer of electricity. For this reason, water filtration is not required with electrode technology, minimizing the complexity of the installation and on-going operating costs.
Features
FULL COVERAGE up to 6,200 square feet in tightly built homes. Choose from 6 levels of output adding 11.5 to 34.6 gallons of moisture into the air per day based on voltage and installation
IDEAL FOR homes in arid, desert climates
PURIFIED WATER NOT REQUIRED Electrode technology requires impurities in the water to promote the transfer of electricity. Water filtration is not recommended – minimizing installation complexity and operating costs
NO WHITE FILM OR DUST is left behind for you to clean up like other steam humidifiers. Aprilaire humidifier just provide clean, humidified air
DUAL SENSOR 24/7 AUTO MODE continually monitors and responds to both outdoor temperature and indoor relative humidity to deliver optimum humidity throughout the home – simply set it and forget it
CONVENIENT DIGITAL CONTROL shows percent humidity, lights indicate humidifier is running and when service is needed, and Blower Activation switch sets humidifier to run continually, or only when the furnace runs
HUMIDITY FOR HEALTH AprilAire Humidifiers can help you maintain optimal humidity in your home of 30% – 60% which has been shown to reduce the incidence of respiratory infections and symptoms related to allergies and asthma by minimizing the formation of bacteria and viruses, fungi, and dust mites. In addition, you'll feel more comfortable while also preserving items in your home susceptible to damage from changing humidity or dry conditions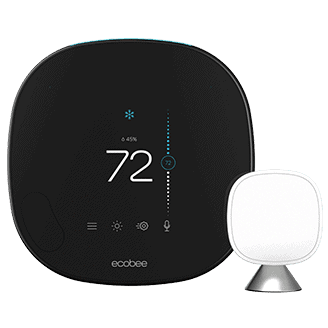 Ecobee SmartThermostat Pro with Voice Control
The ecobee SmartThermostat Pro with vocie control, powered by Carrier, tailors itself to your schedule, your personal comfort preferences and the weather outside. It can also provide details on savings each month and insight into your heating and cooling equipment performance.
With added features like voice control using Amazon® Alexa® voice commands, hands-free calling and the ability to stream music to a Bluetooth® speaker using Spotify Connect2, this smart thermostat can give you the complete control you've been looking for.
Features
Energy-Saving Intelligence: Can save you up to 23 percent in annual energy costs.
Remote Access: Access your system from anywhere with your Apple® or Android® devices.
Smart Home Compatible: Works seamlessly with third-party smart home platforms such as Apple® HomeKit®, Amazon® Alexa®, Google® Assistant, Samsung® SmartThings® and IFTTT®.
Voice Control: Use Alexa voice commands to change temperature settings, check the weather, hear the news, play music, make a phone call and more.
Stream Music: Play music through a Bluetooth® speaker using Spotify Connect.
Hands-Free Calling: Call friends and family anywhere in North America free of charge from your thermostat using Amazon Alexa.
Warranty: Five-year limited warranty when purchased through and installed by a Carrier expert.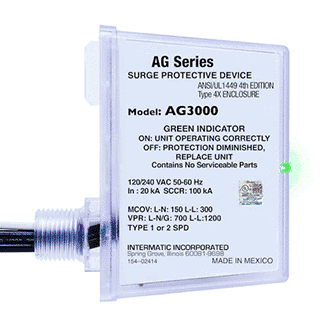 Intermatic AG3000
SURGE PROTECTIVE DEVICE, 3-MODE, 120/240 VAC 1PH, TYPE 1 OR TYPE 2, OUTDOOR, CONNECTED EQUIPMENT WARRANTY 3YR $7,500
Power surges are the silent killer for home appliances and HVAC equipment. Most homeowners protect their electronics, but leave more valued equipment unprotected. Surges can wipe out equipment and leave you searching for answers. Search no more. The easy-to-install AG3000 Surge Protective Device (SPD) is the perfect add-on for HVAC equipment. A green LED indicator provides the status of protection. Trusted, state-of-the-art TPMOV® (Thermally Protected Metal Oxide Varistor) technology eliminates the potentially hazardous failure modes that are commonly associated with standard MOV technology. UL Listed to ANSI/UL 1449, 4th Edition.
Features
Three modes of protection: L-G, L-L, L-N
TPMOV® surge protection technology
Green LED indicator provides status of protection
Type 4X watertight and UV resistant plastic enclosure
3-year product warranty
$7,500 connected equipment warranty for 3 years
UL Listed to ANSI/UL 1449 4th edition